Scan to PDF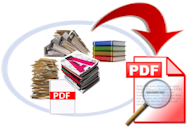 Scanning documents to searchable PDFs renders their content readily accessible. The PDF retains the look of the original page while enabling text searchability. Volumes of paper documents can be converted to PDF so you can search, publish, and archive all of your information in a convenient digital environment.
PDF Processing Services
OCR Scanning Services transform PDF files. Converting PDF files to Word, Excel, XML, HTML and other editable files saves you hours of retyping and formatting. All PDF conversions are performed according to your specifications - no cookie-cutter, one-size-fits-all output from boxed or online software.
Convert PDF to Word, Excel and other popular formats as editable files.
Data compilation in PDF from several sources
Bookmarking, cropping, rotation and deletion of blank pages, etc. in PDFs
Convert existing PDFs to searchable PDFs for your website and local intranet.
Scan documents to searchable PDFs.
Convert image files (i.e., jpg, gif, tif, etc.) to searchable PDFs.
Convert PDFs to HTML and XML formats
Converting documents to PDFs increases productivity, reduce costs, and simplifies document management.
Converting existing PDFs to searchable PDFs makes their content easily and quickly accessible. Your staff can find that invoice, purchase order, contract, etc. quickly. Visitors to your website can find the information they require in an online searchable PDF easily without having to read the entire document.
More Advantages of PDF Files
Do you have scanned image files of documents that could be more useful? Convert those image files to searchable PDFs making them a useful and productive tool for your organization.
PDFs are a worldwide accepted format for viewing, distributing and storing documents giving them true mobility and portability. Documents can be easily viewed, printed, and shared with anyone, across any operating system. A major advantage of searchable PDFs is that finding information in them is easy and quick.
The PDF file format is very compact, so file size is comparatively small, making them ideal for emailing or storing documents.
PDF documents always look exactly the same for all viewers of the document.
Searchable PDFs allow anyone the ability to easily find the exact PDF pages containing the desired information.
PDF documents are viewable on any computer platform.
It is easy to read or view fine details in PDF files as they can be magnified with minimal degradation in quality.
PDF documents retain the look of the original document rendering them ideal for archiving.
Give us a call or email a representative sample for a free consultation or answers to any questions you have.